---
If the Coronavirus has taught us anything in business, it's that applying the right technology at the right time matters more than ever before.
Many companies have recast their entire DNA. They've forged remote workforces overnight, created new revenue streams, and embraced digital solutions at meteoric speeds.
The crisis has also taught us that the physical workplace, as we know it, will never be the same. The lockdown generated operational and efficiency insights that have accelerated digital transformation across industries.
Kronos App for Employees and Remote Workers
Pre-COVID, the privilege of working from home was mainly reserved for white-collar workers. But almost overnight, that thinking has changed as millions of workers of every kind became remote.
The result? Many workers hope to keep some form of remote work and many businesses leaders are seeing the cost-benefit. When it comes to productivity, one 2019 study from Airtasker claims telecommuters worked 1.4 more days every month, which translates to 16.8 more days every year compared to on-site employees.
Rethinking Workforce Mobile App
Efficiency, overhead, and streamlining operational costs are hot topics in the C-suite as re-opening plans unfold across the country.
What's the potential pivot for Kronos users? If your organization has been contemplating adding mobile access to its workforce tools, this may be the perfect time to introduce it.
"Kronos mobile is hands-down an efficiency tool but it's also a brand differentiator when it comes to attracting and engaging employees," says Paul Gaetani, Senior Improv Application Consultant. "Younger workers come from Facebook and Kik generation. They value quick, easy, digital access and expect it to be part of their work culture."
Millennials are those born between 1981 and 1996 and make up the majority of today's workforce. According to the U.S. Bureau of Labor Statistics, they will grow to comprise 75 percent of the U.S. workforce by 2030. Gallup and Deloitte's research adds to the mobile priority: 85 percent of millennials access the Internet from their phones and value workplaces that embrace digital processes and flexible work schedules.
Unifying a Hybrid Workforce
During COVID, the ability to build and manage remote teams quickly and stay agile to fluctuating demand has (literally) saved some organizations from permanent closure. Mobile capabilities added to a Kronos platform — be it Workforce Central, Workforce Ready, or Dimensions — is one way to unify remote and on-site workers.
"When you have a hybrid workforce, operating with the same mobile interface, it brings a distinct uniformity to processes that's important to managers and employees right now," says Gaetani. "Mobile access allows everyone to work from a standardized interface and is able to launch from any browser."
Mobile access adds an element of freedom to a workflow and makes it easier for managers and employees to perform everyday tasks and view HR information without being on-site. This improves decision making, response time, trouble shooting, and (we can assume) makes for happier teams.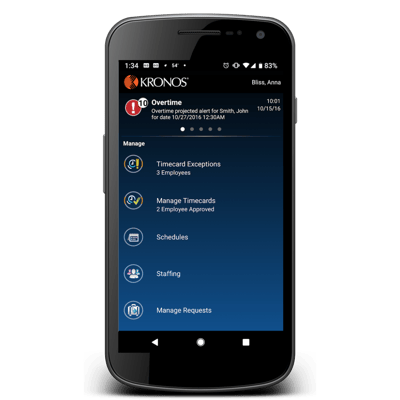 Here are a few other things teams can achieve on mobile.
Employees can:
Easily punch in and out on a mobile device

Quickly check a work schedule

Request time off after checking your time off balances

View benefits and pay information

Save punches if a user can't connect
Managers can:
Resolve employee exceptions as they happen

Quickly approve employee timecards

View tasks and quickly respond to potential

workforce management issues

Ensure store or job sites are fully staffed

Manage overtime, optimal coverage, and worker fatigue issues faster
Employee Engagement
Returning to work may feel disjointed for some employees. Safety concerns and fluctuating work schedules may undermine recovery. While implementing mobile isn't a cure-all for such issues, introducing a tool makes work easier and puts control back into an employee's hands is a perk.
Kronos mobile's interface is designed to be intuitive and easy for any tech user level. So workers who've been adverse to technology won't shy away. Employees can clock in and out with two taps, view schedules, swap shifts, and get quick answers from managers on time off or benefits, which makes mobile an employee engagement tool.
Security and Productivity
What are the common concerns about integrating mobile? An employer may feel like it would put a strain on their IT department, pose a security risk, or compromise productivity when it comes to clocking in.
Not so. Tools such as GPS and geofencing help track punch locations, and Required Actions can be easily customized based on a person's role. IT departments can easily set up mobile on any browser securely. According to Kronos, Workforce Mobile for Android and iOS and Workforce Tablet for iOS have been published in secure mode to meet industry standards. So, if a server isn't secure, the Kronos Mobile app will not be able to connect.
Server to Mobile Connection
The server URL connects the Workforce Mobile application to a company's Kronos application server.

App URL Scheme allows users to access and launch Workforce Mobile from other applications like emails and web browsers.

Enterprise Mobility Management (EMM) helps regulate mobile technology and secure company data.
Next Steps
If you want to pursue adding mobile to your existing Kronos platform, where do you begin? Gaetani offers this 4-step approach.
Identify concerns. Identify concerns from IT, HR, Payroll, and Legal that come with adding mobile. Understand the scope of those concerns.
Seek insight. Engage with a Kronos consultant to examine stakeholder concerns.
Identify solutions. With a consultant, examine options and present solutions that address stakeholder concerns.
Leverage data. Your decision to add mobile should be data-driven and outline the risk associated with each benefit.
The end game with mobile is efficiency of course, but there's so much more "behind the curtain," adds Gaetani. "Mobile won't be the solution for every type of business. But for many — especially those rebuilding — mobile could be a game-changer."
~ ~ ~
We're Here. We Care.
As COVID continues to take the WFM efficiency discussion center stage, Improv is ready to help your organization seamlessly transition to mobile. In addition, our team specializes in complex Kronos configurations. That includes system implementations, upgrades, and compliance configurations specific to COVID legislation.
Give us a call today, and lets get your workforce humming!