---
We had to read the UKG email twice before feeling confident enough to crank out a full-on cartwheel (or two). Sure enough, it said, "Come see us in person in Las Vegas!" It's official, folks: UKG Works registration is open.
After more than a year of clicking our way through Zoom meetings and online conferences, we're thrilled UKG is giving customers and partners the green light to meet in person Nov. 12-14 at The Aria in Las Vegas. For those still not ready to travel, UKG is also offering a digital option.
The UKG Works conference is designed for customers using UKG Ready™, UKG Dimensions™, UKG Workforce Central®, UKG iSeries™, and UKG TeleStaff™/Workforce Planner™. And, there's a chunk of savings on conference passes if you register now or anytime before July 16.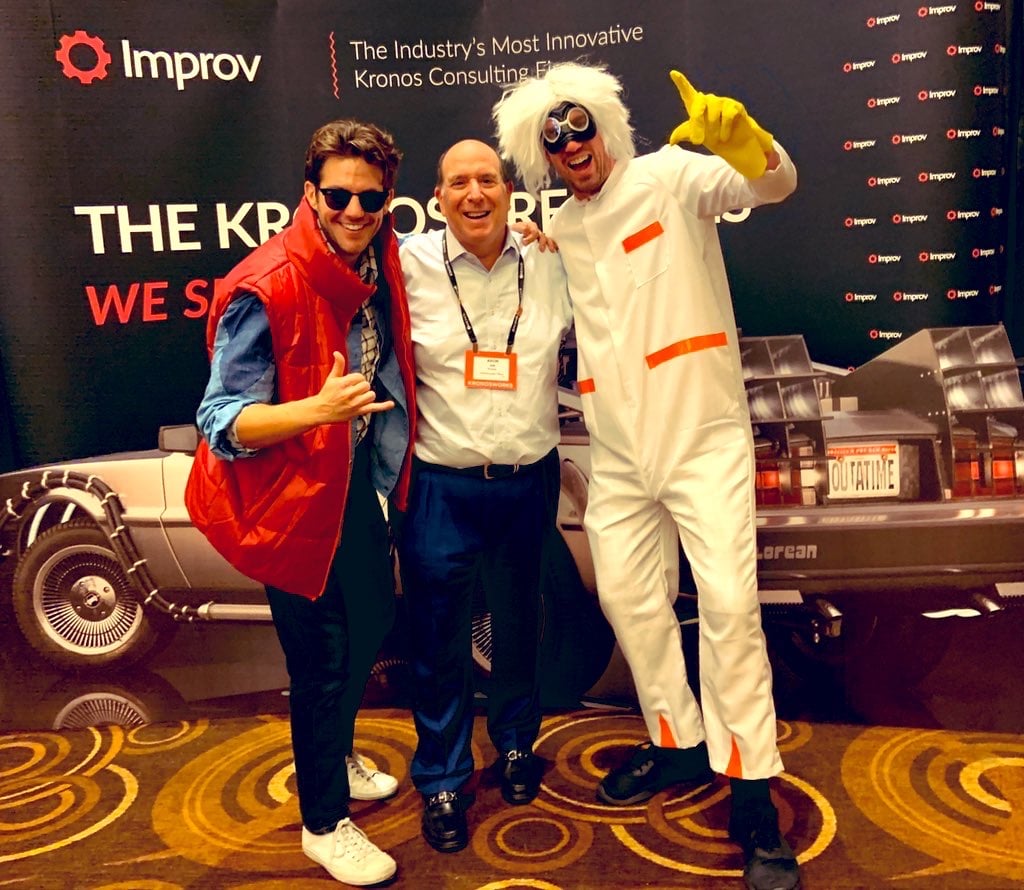 The post-pandemic workplace
According to a recent McKinsey report, as vaccination rates continue to rise nationwide, companies are starting to bring employees back to offices. Too, executives are planning in-person meetings and gatherings with customers and colleagues.
In addition, many are considering when, why, and how their employees should be traveling. The sheds light on how workforces are changing and the considerations that influence travel. (This is a snippet, read the full report, here.)
70 percent of executives said their companies will employ more temporary workers than before the pandemic.
72 percent have started to adopt permanent remote-working arrangements for a subset of their employees.
Nearly 40 percent of the workforce in the United States has the potential to work from anywhere.
About 30 percent of executives say they have not heard about specific plans for corporate travel after the pandemic; another 28 percent described their companies' travel plans as vague.
Ready, Set, Segment
One helpful way for travel planners and suppliers to think about their travel policy, says the study, is to break down travel groups into four specific categories, which include:
The "never left" segment. These are employees—many in manufacturing and field operations—who were deemed essential to business and resumed travel as soon as lockdowns eased. This category accounted for around 15 percent of all corporate travel expenses in 2019. Many in this group, reluctant to fly, opted for rail and road travel.
The "never returning" segment. They are business travelers who, after lockdown, proved to be digital adopters able to maintain high levels of effectiveness while working remotely. This group may never return to corporate travel at prior levels.
The "fear of missing out" (FOMO) segment. This group (about 60% of business travelers in 2019) represents the bulk of business travel and includes those traveling to cultivate important client relationships. Small and medium-sized enterprises (SMEs) will likely increase corporate travel at much faster rates since they aren't subject to the heightened approval process that large enterprises must follow.
The "wait and see" segment. This group consists of travelers in relatively noncompetitive industries such as the public sector, professional associations, and nonprofits. Many of these travelers adapted well to virtual events and are more cautious about returning to travel.
To position future travel policy changes and outcomes for success, the study offers four tips: 1) leverage real-time data in decision making 2) be agile in policy planning 3) personalize travel experiences for safety and comfort, and 4) clearly communicate policy changes every step of the way.
However your travel policy evolves, we do hope to see you at this year's UKG Works— be it in person or online—frankly, we've missed you!
---
Post-Pandemic Optimization.
Get 'er done.
Your UKG system probably isn't configured for the same workforce it managed just 18 months ago. Connect with Improv today. We've got you covered. Hint: Get started by downloading this free guide and get some easy optimization tips.
|