---
It's not uncommon to find that many UKG customers use On-Call Pay Codes when they need to schedule On-Call Shifts. However, this scheduling practice can open your process up to errors. Ready to improve your process? Great! Here are six easy steps to better On-Call scheduling.
But first, if you are using Pay Codes for this scheduling task, why change now? Simply put, there are a few issues with using On-Call Pay Codes to schedule On-Call. First, doing so can be cumbersome because managers must manually handle Call Backs, which can cause issues. Second, there's no way to evaluate On-Call coverage easily.
The better alternative is to schedule On-Call using Shifts. This will eliminate the manual work around and allow managers to easily evaluate On-Call coverage. In addition, employees will easily be able to use your system's self-scheduling features with On-call Shifts.
6 Steps to Improving On-Call

The good news is that if your Call-Back Work Rule is already defined, you are more than halfway there. The key is the Call-In Rule associated with your Call- Back Work Rule.
Your Call-In Rule determines how On-Call is paid and how Call-Ins and Call-Backs are handled. Of course, UKG provides multiple configuration points allowing you to configure system behavior that matches your policy.
For example, whether Call-In is deducted from On-Call, whether a shift guarantee applies to the On-Call shift or each Call-In. This functionality is available in both UKG Workforce Central and UKG Dimensions products. The functionality is the same in both Central and Dimensions. So let's get right to it!
Step 1


Create your On-Call Pay Code Distribution.
Yes, this is a bit of a cheat in that it is two steps, but you can't have a Pay Code Distribution without Pay Code Combinations. If you have only one pay result from On-Call shifts, your distribution may be a single Pay Code. You will find as you continue reading, it's not really a cheat.

Step 2

Create your On-Call Work Rule. Generally, this will be empty except for your On-Call Pay Code Distribution.

Step 3
Create your Call-In Rule.
Review the options on the Scheduled Call-Back and Call-Back tabs, as they determine things like whether Call-Back is deducted from On-Call pay, what should happen for a scheduled shift versus an unscheduled Call-Back. Note that the Shift Guarantee can be set here, at the "per on call shift" level, or within the Call-Back Work Rule if multiple shift guarantees are appropriate.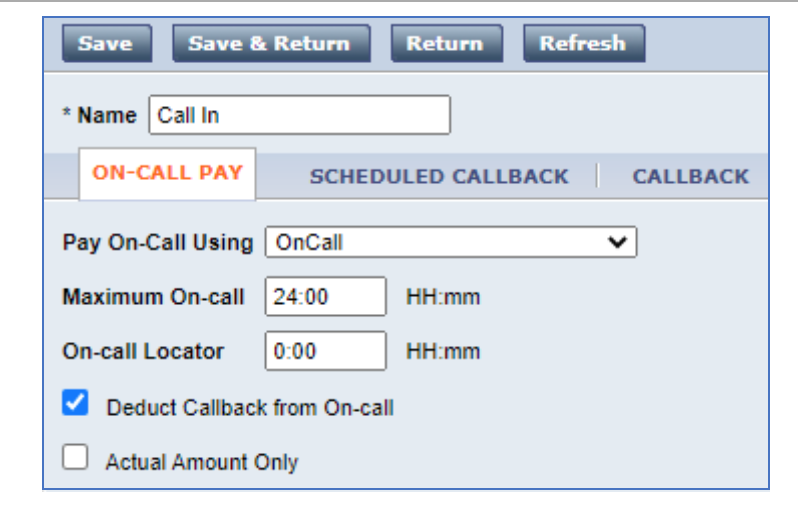 Step 4

Update your Call-Back Work Rule to use the new Call-In Rule.

Step 5


Schedule an On-Call Shift by creating a Shift with a Work Rule Transfer to the appropriate Call-Back Work Rule for the employee.

Step 6
Enjoy the improved results in your employee's timecard.
On-Call only

On-Call, with a Call-In, deducted from On-Call.

Sometimes just making a few minor shifts in your process can seal up potential pitfalls in your scheduling. This is one of many examples of how a subtle shift in process can improve your overall scheduling efficiency and outcomes.
Looking for more UKG optimization help? Go to the search bar in this blog and type in whatever you're looking for. Chances are if it's a UKG issue, we've written about it.

In addition, if you are UKG Dimensions customer and always looking to level up your skills, please join us for our May 20 webinar. We will be covering how to create Business Structures in Dimensions. Register here.
---
Better, Faster UKG Solutions!
Are you stumped with exactly how to configure your UKG software to reflect the unique needs of your workforce? Help is just a click away! Schedule a free Discovery Call with our team today. Let's talk process and best practices for optimizing your UKG platform.
Download our free DIY Optimization Guide and get your
UKG system humming!