---
Integrating your company's data sources is critical for operational efficiency. However, as consumers increasingly demand a more personal, simplified interaction with companies, data integration is fast becoming a key customer loyalty driver.
Here's the rub
When data is siloed, a company presents a singular point of view to constituents, customers, and employees. Each division or department has its own data set and view of the customer. Often, customer records don't propagate across to other divisions that also have a relationship with the customer. The result? The customer likely gets asked multiple times to provide their information, which can knick your customer loyalty. (HR note: This also applies to the company-employee view).
Siloed data sources tend to pop up like weeds within a company. However, one way to tame those weeds and bust down silos under your corporate roof is with an iPaaS, an industry Gartner estimates will reach over $5.6 billion in revenue by 2024.
iPaaS Defined
iPaaS (Integration Platform as a Service) is a cloud-based set of automated tools for connecting software applications deployed in different environments. It enables subscribers (also called cloud 'tenants' or 'residents') to implement data, applications, API, and process integration projects involving any combination of cloud and on-premise endpoints. It achieves this by connecting multiple endpoints so that all applications can work together.
In short, iPaaS is a single platform that has the power to connect multiple data sources so a company can work and compete at peak efficiency.
Boomi Power
Boomi is one of a handful of companies leading the iPaaS market. Pioneers in the field, Boomi has generated an unshakable buzz around its ability to connect all segments of a company's digital ecosystem: Its people, its processes, its applications, its data, its devices, and its digital things (IoT).
Boomi Power
Easy, no coding UI. Integrations without complex coding? Yes. Boomi has developed a series of common integration components that allows users to create end-to-end integration workflows easily. Its intuitive UI includes drag-and-drop mapping tools, pre-built integration processes, reusable components, and a library of connectors. The biggest perk: Users can easily build integrations without the cost and time of coding.
The Atom. The platform's power source is The Boomi Atom, which is a patented, lightweight run-time engine that can be deployed in the cloud or behind a firewall to manage business processes. Once an integration is built, The Boomi Atom is deployed to integrate applications. The Atom works independently to initiate all connectivity to the platform and communicates integration activity for centralized monitoring, checks for process changes, and updates itself as needed.
The AtomSphere. This is the platform's work area where real-time, scalable enterprise app integration happens. Here, users can design cloud-based integration processes (Atoms) and transfer data between cloud and on-premise applications. They can easily drag and drop integration components such as connectors, maps, document property elements, and start and endpoints. The interface allows a user to model an integration process between two applications visually.
Centralized Management. No matter where Boomi Atoms are deployed or how many processes are deployed, The Atom's unique architecture enables centralized management of all integrations from the Boomi AtomSphere platform. This gives users a 360-degree view of their business and the insight to address critical problems.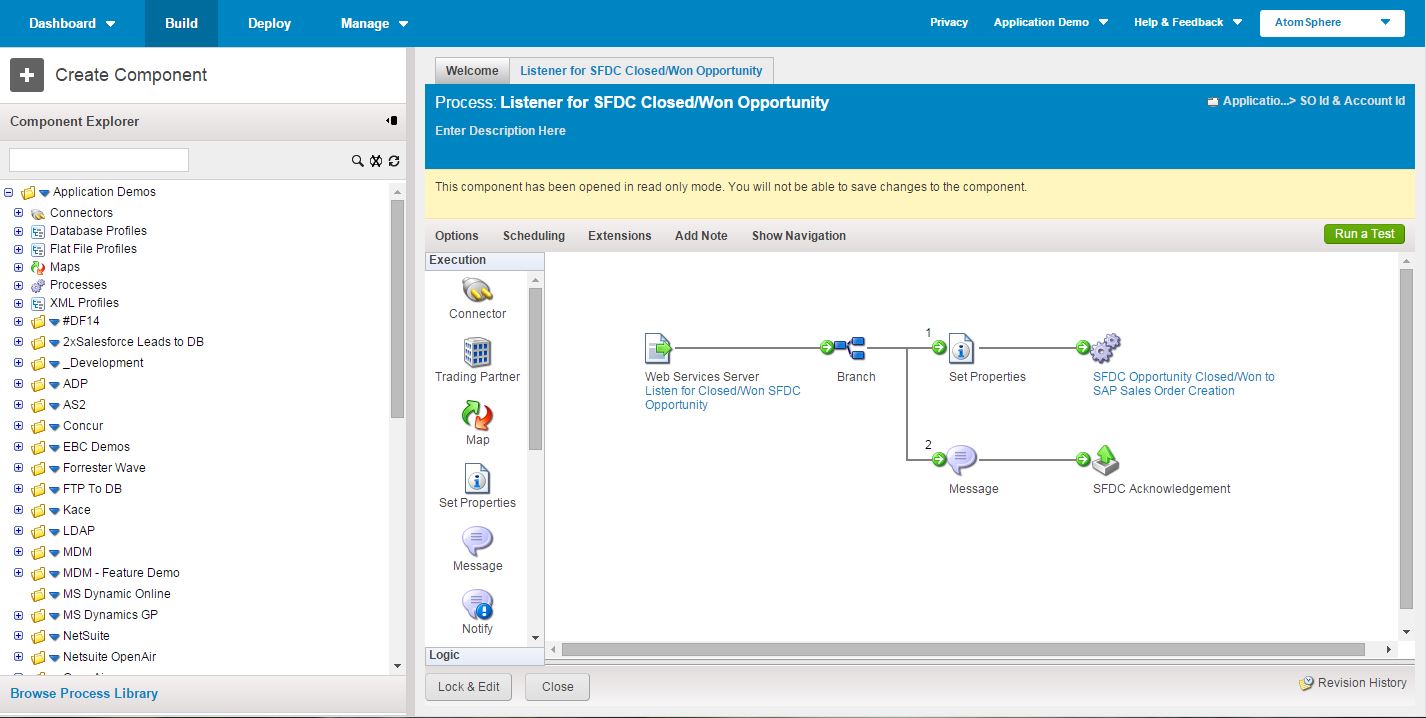 Full, Diverse Integration. Boomi allows users to integrate multiple SaaS applications or SaaS to on-premise systems or even applications hosted on different public or private clouds. The platform has been built to support diverse integration and communication patterns, including application-to-application, pub-sub, real-time and event-driven web services, streaming, batch, ETL integrations, and more.
Boomi Suggest. Users call this Boomi's true magic. Boomi Suggest is the industry's first crowd-sourced suggestion wizard for data mapping. Boomi Suggest anonymously indexes and leverages millions of previously built maps for new integrations automatically. According to Boomi, users accept 90 percent of these suggestions, which dramatically speeds up the integration process and boosts internal efficiencies.
Boomi Resolve. Boomi Resolve automatically suggests resolutions for common error messages. It becomes more intelligent and helpful as it identifies common issues and recommends solutions, which accelerates the integration process.
Boomi Assure. Boomi Assure allows users to submit integration processes and test data to AtomSphere. That test data will be run against every future AtomSphere release. Boomi won't release new versions of the AtomSphere platform until all regression tests are passed. This function gives users confidence that changes to the platform will not break their integration processes.
Trust and Compliance. Boomi's support system automatically analyzes customer usage metrics, identifies potential issues, and suggests ways customers can increase their platform efficiency. It takes care of maintenance and upgrades regardless of location and automatically updates security and compliance issues.
This is just a snapshot of what Boomi's iPaaS platform offers and how it's forcing companies to re-imagine traditional technology infrastructures. Over the next few weeks, we continue to dive into the Boomi platform as it applies to UKG Dimensions users and explore its ability to unify data, processes, and people.
---
Ease Your Integration
Growing Pains
The process of data migration and integration can be confusing. At Improv, we've made it our business to get certified in critical Boomi integration skills. To get your UKG system, or any number of siloed IT systems integrated, call Improv and let's get started!

Download our free iPaaS guide below.
---