---
Similar to Workforce Integration Manager (WIM) being integrated with Workforce Central (WFC), this article focuses on another new product in Workforce Central version 6.1 and above: Workforce Device Manager (WDM). In keeping with the "New Feature" theme when upgrading, I chose the image of a movie theater to represent the Kronos InTouch devices. Why? Similar to what moviegoers see on the screen, you determine what is visible at the device based on what you select in WDM (your Kronos projector). Upgrading to WDM can represent a new configuration or can represent a sequel (upgrading the current DCM configuration).
Both DCM (pre 6.1) and WDM (post 6.1) handle communications to devices (a.k.a. time clocks). By communications, I mean a two way feed (typically employees and punches). The empty screen before the movie starts? Imagine a blank LCD screen on a Kronos InTouch device out of the box. You can send selected information from WFC to the device to display on screen for employee use. Start the picture! Within the new WDM there is support for the newest Kronos device: the Kronos InTouch. While this article's focus is WDM, information on the Kronos InTouch will be forthcoming.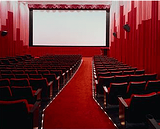 Let's talk about some of the key benefits of upgrading from DCM to WDM. WDM is useable via the web by anyone with access. With WDM however, there is no need to log into a separate application. There is a navigation bar for WDM inside of WFC. DCM was not part of WFC. In DCM, transaction errors are stored in a separate application and sent to WFC. In WDM, transaction errors are stored directly in WFC. This allows errors to be reviewed and then corrected without having to go to a separate application. If I see missing punches consistently from one terminal, just go to the new Device Manager tab at the top of WFC to review the issue and identify the problem device! Kronos WDM administrators can also get notifications for devices. This allows an administrator to receive an email in the event of a device failure. Additionally, device configuration standardization is easier. Each device in WIM has its own unique Configuration Profile assignment, not a tab for each device. Rolling out a standard configuration is easier as now you don't have to cycle through tabs. You can simply choose a Configuration Profile assignment from the dropdown.
Recapping WDM highlights:
Device management is now web-based (part of WFC)
Device support for the Kronos InTouch is only available with WIM
Notifications and transactions (visible via WFC) make troubleshooting easier
NO separate installation from WFC, one install (easier to access)
Easier device configuration standardization
Some of the other benefits include:
Seamless upgrade for current 4500 device configurations
The option to choose 32 or 64-bit technology
Easier setup for encryption between WFC and the 4500 (SSL)
Easier backups; ALL WDM data is stored within the WFC database (including Events)
Less service pack maintenance (WDM is part of WFC)
Tighter integration with WFC (scheduling, reviewing transactions, etc.!)
A couple of pitfalls:
Device Manager only supports the Series 4500 devices with later firmware or InTouch devices currently
It is not currently supported to use 4500 devices with modems with DCM or WDM installed on VMware
If you have existing 4500 terminals with an older firmware, they may need to be upgraded
These are the things I can think of at the moment off the top of my head. I welcome any comments or questions!