---
I have been in the technology consulting business for over 30 years. It's been a crazy ride topped off by COVID 2020, but one thing hasn't changed; change.
Change is becoming more and more frequent, almost the norm. It's harder than it used to be to build long-term habits, stay skilled in the moneymakers, and learn new skills for the future. At Improv, we value education and spend a lot of time on skills acquisition. It's part of our employee development process and our culture.
Education can also be measured in desired business outcomes. For example, contrary to HR executives' fears, research has shown that education benefits increase tenure. In LinkedIn Learning's 2019 Workplace Learning Report, 94 percent of employees said education benefits would persuade them to stay at their company longer.
A 2015 study from Great Britain found that providing more training to employees increases their wages — but not as much as it increases their productivity. Many other studies confirm the bottom-line benefits of employee education benefits. According to Lumina Foundation and Guild Education calculations, the ROI for educating employees is between 129 and 185 percent.
It's hard to argue with those numbers. So how can leaders respond?
Upskilling over hiring new. We suggest mining your existing team for upskilling opportunities instead of always looking outside to gain the new skills required. What is the cost of replacing an employee vs. training? Search google, and you'll get a gazillion hits.
Foundation is everything. Training plans and execution take work. You likely have brilliant employees. They've learned much about their role and are confident in their ability. However, if tested, one will find gaps in knowledge that make much of their daily tasks more challenging than they should be. These gaps are common and not just in the tech space.
Case in point: I've played guitar all my life, yet I just started a program at the beginning level. I've already found gaps in my base of knowledge that make playing the harder pieces I want to play more difficult. Fix the core, your knowledge base, first, and you'll have a strong foundation for advanced work.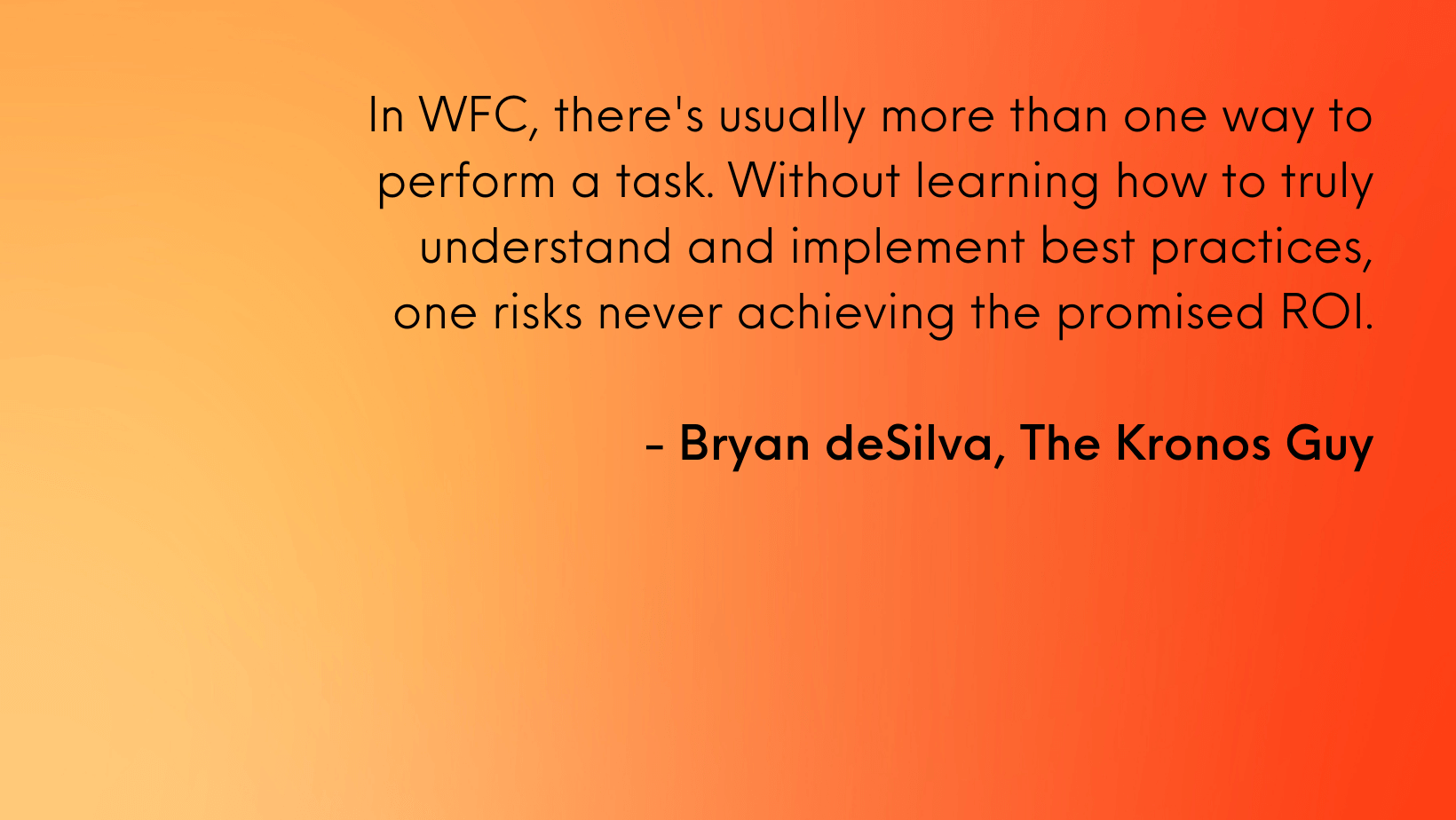 Our Solution
With that in mind, Improv is working to solve critical training gaps for a specific group of people; Kronos and UKG Admins. Our learning solution is called UKG Super Guru.
The concept behind Super Guru is that gurus pursue knowledge indefinitely, and with that knowledge comes peace. We like the idea of helping people become masters of their domains at work and make peace with their technology. We spend a lot of our lives at work, and we believe that having the skills to enjoy that work is essential.
Our first course is Mastering the Foundations of Workforce Central. Several other courses are in process and slated to release in the summer. Super Guru courses, in general, will give UKG users skills with various Kronos/UKG tools, such as Timekeeping, Accruals, Attendance, and so much more.
Each course is associated with a skill level to provide training to both new and advanced users and will include a total of 7-8 hours of video content. Each course is broken down into lessons that range anywhere from eight minutes to 35.
Classes also include downloadable resources and optional quizzes to test comprehension. Students will also have daily access to the Super Guru online community, a place they can connect with others, pose questions, collaborate, and get additional live work sessions, bonus content, and the option to purchase 1-1 work sessions with an Improv consultant.
The Case for Training
It all sounds great but how do you get the green light for the training you or your team needs? Here are some specific points to make for defending your training budget.
It would be best if you had more but we're keeping our offerings inexpensive so organizations can handle it while still navigating this challenging time.
---
Ready to Learn?
Super Guru Courses offer an engaging solution to WFC Training. Bring Super Guru courses to your organization.
Can't stop, won't stop! Intermediate & Advanced Workforce Central courses as well as UKG Dimensions training will release soon! Sign up for new training alerts.
Learn more about Super Guru courses
Questions? Contact a Super Guru guide
Access Improv Resource Library